We produce
Light liquids (fuel and oil) separators are used for cleaning stormwater from particles, oil, and gasoline before entering the common sewer.
Our light liquids separators of class 1 use a combined two-step method of sewage treatment which also includes a coalescer (coalescence, merging of oil particles), and, if needed, a microfilter. This technology allows for a much improved performance of output wastewater compared with traditional chambers using one-step treatment.
Class 1 light liquids separators manufactured by Vesmaco comply with the European standard EN 858 and ensure the content of hydrocarbons in the treated wastewater of not more than 5 mg/l.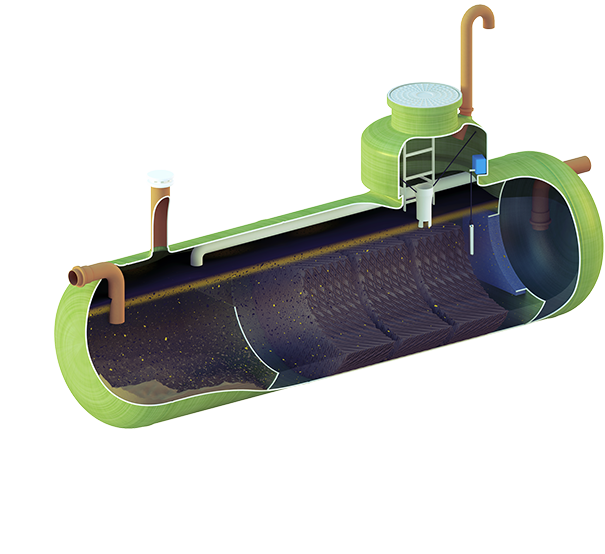 Built-in modules
In order to minimise costs, we recommend in-built grit chambers for systems with low load.
Flexibility
Possibility of amendments and additions at the stages of design and manufacture.
Choise
Follow the agreed guidelines to select a grit chamber independently.
TRIPLEX
In systems with the capacity of up to 30 l/s, a possibility to use a special single-case system TRIPLEX for cleaning up stormwater.
Materials
Our products are manufactured from glass-reinforced plastics (GFRP/GRP) using special winding and spray machines. The whole process is under the control of the qualified professionals.
Control
On request, a bypass node is installed into the oil separator, which in the case of a larger flow will solve the problem of its diversion. All oil separators of class 1 produced by our company can be equipped with alarm control automation, which will give an audible or visual signal reaching the maximum level of separated hydrocarbons.
Full service
We provide full service — calculation, design, manufacture, packaging, delivery, installation supervision, starting-up and adjustment, as well as maintenance. Turnkey solutions.